So I had known for awhile that my parents were going to be in Prague at this time for a conference, but we didn't book anything until last week.  We went to Prague October 21-23rd.  We have been to Prague before (May 2015) but that was pre-blog, so I am also going to include what we did & what saw last time  with this blog. I must say that Prague is one of my favorite cities that we have visited.  The kids love it as well.  We hit up some of the same places as we went to last time such as Tiger (like a dollar store) and the Palladium mall.   Unfortunately I don't remember all the places that we checked out last time, but I will try to include them as well.
Accommodations
For both times we went to Prague we booked at Royal Courts Apartments via Wimdu.  In May, we booked THIS apartment for $189.00 for 5 people for 2 nights.  And just recently we stayed in THIS apartment for $137.89 (includes a $25 off voucher from a previous Wimdu use) for 2 nights for 4 people.  Honestly the photos are completely different from the rooms we stayed in and we just stayed in apartment 46.  I highly recommend this apartment complex.  They are very professional and nice.  I would recommend either having an internal apartment or an apartment not on the main road. Our first stay was on the main road and it gets very loud.  I would recommend bringing a sound machine.  Important information! Be sure you CALL them when you arrive.  Sometimes it can take them awhile to answer the door.
Getting there: Please keep in mind we drove from Kaiserslautern, Germany and this is our travel time for October 2015.  I must say that A6/E50 is evil.  Full of traffic.  Just saying.  The traffic is horrendous! On our way there, the drive time was about seven (7) hours and on the way back home it took us 9.5 (nine and half) hours.  I should still be in bed. We were stuck in 2 (two) staus and the autobahn was closed off 2 (two) times.  I think that if you drove overnight it wouldn't be so bad. DON'T FORGET TO GET YOUR VIGNETTE ONCE YOU GET INTO THE CZECH REPUBLIC!!!!
Parking- Our first time in Prague we parked at Parking Centrum. Parking per day is 650 CZK. With today's (October 24th, 2015) currency exchange it would be about $26.00.  As per the website "** Quoted price is for the complete period of 24 hours from the entrance to the garage – daily parking. Until 24 hours the price is charged at the hourly rate – hourly parking."  We have a 2014 Jeep Grand Cherokee and we didn't have any issues maneuvering it. THIS time we parked at my parent's hotel Hotel Grandior. I wish I could tell you all how much my parking was, but my parents treated us.
** Recommendation: I highly recommend using their currency and NOT euro. Be mindful of your items.
Places that your kids will love
Tiger is a like a dollar store and it is on the Wenseslas Square! You will virtually finding anything and EVERYTHING in here. My 5 year old son really wanted to resupply his mustaches.  As soon as he found out that we were coming back I knew we would have to pay another visit.  They have all sort of neat things.  So be sure to check it out! 
Another place to check out is the Palladium Mall. This mall has over 200+ stores and a heck of an impressive food court.  Some of the stores include Reserved, H&M, Sephora, C&A and LOTS MORE! The food court boasts many American fast food places such as Burger King, KFC, McDonald' and many other different international foods to satisfy your taste buds! BUT I have to mention a yogurt place called Funny Danny.  If you want to the back of it they have a playroom! You can leave your kids in there and go shopping!!! There is a huge slide, a trampoline and they even have an XBOX for your older kids.  It was a nice little break.
Parks: Unfortunately we didn't go to any parks this time, but we certainly went to some last time… so mind as well mention them.  Although I didn't use this website for playgrounds in Prague… we stumped upon them. HERE is a website where you can find some!
Park by Charles Bridge: My kids loved this play area! Great way for your kids to run off some energy (even if they are complaining that their feet are killing them. It is on the Castle side of the bridge.  If you are heading towards the castle ON the bridge.  Look down on the right side of the bridge and you will see it! There are many cute shops in that area as well.  Park near lift to Petřín Hill: This is a very large playground. Lots of areas to sprawl out and enjoy the area.  After playing, go up to Petřín Hill. Lots for kids to do there! (click on HERE above) 
Food: Restaurants are VERY diverse in Prague as like any other large city.  Be sure to try some of Czech's regional specialties. This time around we ate at Pizza Colosseum.  We ate the rest of our meals in our apartment or at McDonald's (that is what the kids wanted).
Transportation: PARK YOUR CAR! Use the underground! VERY easy to use! AND super cheap!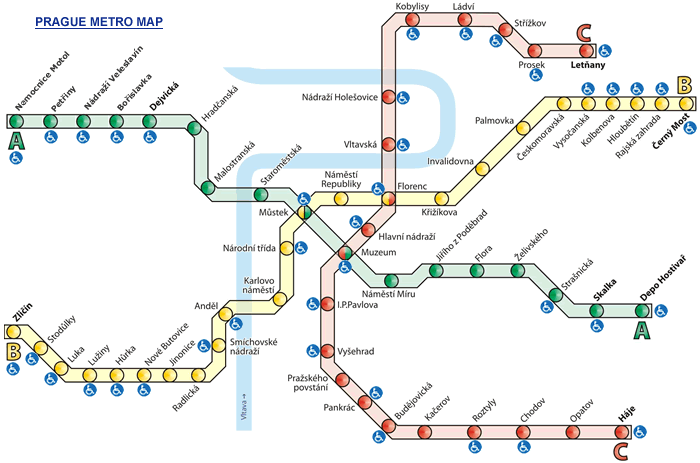 Places to check out!
Of course YOU HAVE to check out the Old Town with the Clock Tower, Charles Bridge, Prague Castle, & Wenceslas Square.
Would you like to see more? Just ask!!
LOVE OUR BLOG? Please be sure to follow our blog to get our updates on our travels! Also please comment below!
Thank you!